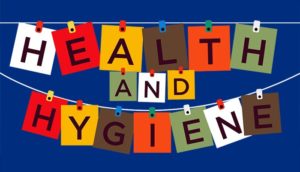 Hello guys, I am back here after my same interesting day…🙋
Hope you all had an interesting day too. 😇
Not only the day but this blog writing is getting interesting ✍ now and that's only because of you guys. 🙏
Thank you everyone for showing your love by reading my blogs…It really motivates me. 😊
Motivation is what gets you started…Habit is what keeps you going.
You keep motivating 👍 and I will keep up the habit of writing. 😎
Now I would like to add something in continuation to my yesterday's blog COVIP – 19 and that's about H2 . Ok what's H2 ???🤔 Simple Health & Hygiene 🙌 which is again a very important part of this phase. We spoke about many positive things yesterday and H2is the most important thing to be taken care of during this period and forever.
We all need to have HEALTHY PLAN OF ACTION…🏃
HEALTH
ü Try consuming immunity boosting food and drinks as much possible like –
Herbs 🌿(garlic, turmeric. Ginger, basil leaves, black pepper, jeera etc.)
Vegetable & Fruits 🍋🍊🍉🍅(red pepper, turmeric, drumstick, cucumber, carrot, spinach, citrus fruits etc.)
Drinks 🍹 (coconut water, lemon water, glucose, decoction water – KADHA etc.)
ü Hydrate yourself time to time by drinking more and more water.
ü Avoid stress and keep yourself relaxed. 😌
ü Involve in some physical/mental activity everyday like yoga, exercise, meditation or cycling just like I do.
ü Take sufficient rest and sleep well. 😴
ü Eat home cooked food twice a day and try to consume raw fruits and vegetables as much as possible during the day. 🍲🍛
ü Avoid eating outside and unhealthy food. ❌
ü Say goodbye to bad addiction's and start a new good habit. 👍
HYGIENE
ü Wash hands often & wear mask – Most important in today's situation. 👐
ü Keep your home and surroundings clean. 🏡
ü Maintain cleanliness at your workplace just like your home.
ü Take proper care of your body on daily basis which include cleanliness head to toe.
ü Do not share your towel, comb or clothes with others – sharing are caring but not in this case.
ü Wear clean and germ-free clothes.
ü Practice a good personal hygiene.
Cleanliness is the first law of H2 …so keep clean and be healthy. 💙💚🧡🤎💜💛
Be fresh and flirty! 😉— Not foul and dirty!
Stay Safe
Stay Healthy
Take care
Good Night
Catch you soon